SMSB E.L.I.T.E. Spotlight: Future 4 Star Corey "CJ' Sadler
By Perry A. Farrell
SMSB Editor in Chief
Corey (CJ) Sadler Jr. is on track to become the next star in Detroit.
He's only in the seventh grade at Detroit Achievement Academy, a charter school, but the 5-foot-10, the 165-pound dual-sport athlete has already made a name for himself.
A quarterback, wide receiver, linebacker, safety, and cornerback, he recently won the best 12-and-under player in the nation. He won the Greater Metro Youth Sports League and is a star on the 7v7 circuit with Sound Mind Sound Body's Max Ex squad.
He has won two national age-group titles. He has played for the Westside Rams and the Motor City Jaguars, culminating in four city championships.
"As a quarterback, he reminds me of Kyler Murray,'' said dad Corey Sr. "I know he's bigger than Kyler, but he can run and pass. I didn't put him in Sound Mind Sound Body. He sought them out. I'm just along for the ride.''
Corey Sr. laughed.
He also excels at basketball where he'll be a point guard or shooting guard when it's time to enroll in high school.
"He can play all five positions,'' said Corey Sr.
Dad didn't know his high school destination, but you could figure Detroit Cass Tech and Martin Luther King High Schools will be in the picture.
"People are already wondering where he'll attend high school,'' said Curtis Blackwell, Co-founder, and President of SMSB. "He already has offers from Kentucky and Michigan State. He's the next big thing in Detroit. He has traveled with us and has done well. He's a great athlete and he has been able to handle himself on the big stage in our tournaments.''
And currently, he's totally unfazed by his stature and uncertain which position he likes more on the football field.
"It's either quarterback or wide receiver,'' said Sadler Jr. "I can't separate them right now. I love playing both.''
Playing with older athletes drew him to SMSB.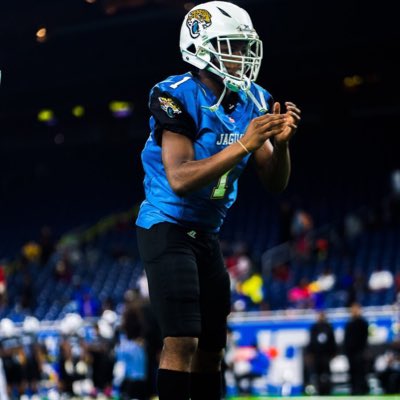 "I learn so much from the older players,'' said Corey Jr. "I can pick up on things they do, and it only makes me better. I wanted to be a part of Sound Mind Sound Body because of the travel and being around a lot of great players. They travel everywhere. You get to go on college campuses and soak up the atmosphere. We take all types of college tours. Being in that environment has helped me on and off the field.
"I've been to Florida, Tennessee, and Indiana. The travel and experience have been invaluable.''
Said Corey Sr.: "What Coach Blackwell and his staff have done is amazing. He has been able to travel and experience things most seventh graders haven't been able to. He has been able to grow on and off the field. He's excited about being a part of Sound Mind Sound Body.''